Commercial Security Systems
Business Security systems are designed specifically for the type of business and the facility of use. Each business operates differently and key points of protection may differ depending on the placement of goods, central operations and customer entry/exit points within the facility.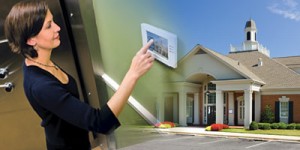 Our free security analysis would provide a comprehensive solution to these factors, with a focal point on personnel security as well. As a Honeywell authorized dealer, our wireless systems are capable of protecting small commercial facilities or multi-storey buildings. Our designs often combine technologies (such as Fire and Access Control Systems) to provide a comprehensive, cost effective solution for your premises and environment.
Each system is configured to communicate using phone line, IP or GSM reporting to our UL listed Central Station. Our Honeywell Total Connect 2.0 communication products allow the user to control their system from an internet enabled device or smart phone, receive email messages of system events and remotely view onsite CCTV live images.
Please view the latest Honeywell Security Products available for your home here.