Video Surveillance Systems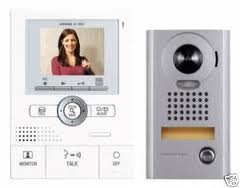 A Video Intercom System is becoming more popular as a replacement for the simple doorbell to a residence or unsupervised business entrance. This system provides the user with the ability to see a visitor as well as speak with them before allowing them entry to an office or premise. The design of this type of system may be as simple as a two station intercom within an office to a full video intercom system in a residential multi-storey building.
Aiphone Video Intercom systems are utilized world wide and are a leader in the design and supply of Video Intercom systems. The systems may be configured to provide remote entry for a motorized gated access to a property, replacement for the simple residential doorbell or for use in a restricted commercial entrance.
We can design a customized video system that meets your current or future needs.