Residential Security Systems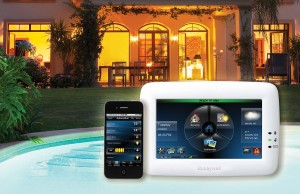 Home security is a vital part of our everyday life in Bermuda. We value the ability to provide our clients with an electronic security solution that provides peace of mind. When your spouse feels protected when you are travelling, when you have the ability to confirm that the kids are safely back from school or having the ability to obtain immediate help during an emergency, our goal is to improve your quality of life by the use of proven electronic security products.
As Honeywell Security dealers, our electronic security installations have been proven to be user friendly, dependable and well suited for Bermuda's construction and environment. Our Honeywell wireless security devices provide ease of installation and are a suitable blend for any décor. Whether a phone line is available or not, our wireless GSM Central Station Monitoring, utilizing Honeywell's Total Connect services, provide any homeowner with an up to date status of their home security system on their smart phone or PC.
Please view the latest Honeywell Security Products available for your home here.