Gate Operator Systems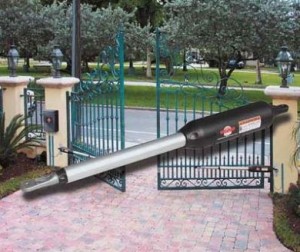 Whether the entrance is narrow or wide, gated entry systems provide security and restrict access to a residence, business or parking area. Anderlin Industries Ltd. provides quality electric Gate Openers for gate systems already installed at the point of entry. We primarily install GTO swing gate operators and DoorKing sliding gate operators.
Residential Gate operators are configured to enable the gate to operate in the absence of AC power (for a limited time), enabling the resident to operate the system in the event of a power failure. Should there be no AC power available; our operator can operate using a Solar Panel.
Commercial Gate operators are configured to provide adequate operating durability and dependability for a sliding gate configuration, arm lift style (parking entrance) or leaf style gate.
All systems may be designed to operate with an Access Control system, wireless transmitter or Video Intercom system.